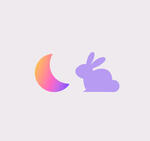 MOON RABBIT GROUP ORDERS 🌙
Canadian & Vancouver-based group orders run by a team of four. Established in 2019. We're big fans of all things purple 💜
Frequently Asked Questions ⭐
GROUP ORDERS
What are GOs?
We group-buy merchandise and items together. This helps cut down on shipping costs in some cases, and we manage the order for you.

Is it safe to join with you guys?
We've been both GO buyers and managers for years now, so we know what it's like being on both sides - we started in 2019, and have a track record on Twitter under #MoonRabbitProofs.

Are there different types of GOs?
We have both 'formal' GOs (organized with forms) as well as 'informal' GOs where you DM us to buy (typically for more rushed orders).

Do you take requests?
You can submit a GO request here: GO Request Form (we have notifications on for every response we receive). Please read that form for more details.
---
PAYMENTS
How do I pay?
All our GOs come with payment instructions. Some might have special steps, so please read carefully! We accept payment in USD via our PayPal with Friends & Family. If you're not able to do this, please contact us.

Why USD for a Canadian GO?
USD is the currency most artists and Weverse operate in - the exchange rate is also generally the most stable.

I submitted a form, but I changed my mind before paying.
If we don't receive the money, we won't chase you for payment, and won't place the order.

I paid - was it received?
Please check your PayPal or bank statements - if the money has been sent and recorded on PayPal/your bank statement with no errors from your end, we've probably received it. We don't usually send payment confirmations, only order confirmations once we actually place your order.

I'm trying to pay, but there's a problem.
Problems can happen with PayPal or your bank. If you're having trouble sending the money or are seeing errors, please let us know. We might sometimes refund payments if you've sent it incorrectly - we'll always provide the reason in the notes.
---
REFUNDS
Are refunds possible?
Refunds tie into our buyer agreement and disclaimers when you choose to join an order with us. For more on this, please see our legal notes here: Disclaimers, Agreements, and Responsibilities
---
SHIPPING & MEETUPS
When & how will my item be shipped?
Once the order arrives to us in Vancouver, we'll send you an email with shipping options. After you've sent the shipping fee, we will securely package the items and email you a shipping confirmation when it's been sent out. This can take a few days to a few weeks depending on our inventory volume, and on the shipping speed you choose.

Can you combine my items?
If you have multiple orders from us arriving around the same time, we will automatically combine this for you (both for shipping and meetups). If you'd like to combine orders that are arriving at very different times, please contact us in advance.

How much does shipping cost?
This can vary from order to order, and will always be noted on the form details.
Cost differs depending on: How many people join, if it's being shipped directly/indirectly to us, the shipping method, and if we get taxed by customs. For more info, please see [Disclaimers, Agreements, and Responsibilites].

How do meetups work?
Due to COVID, meetups have been unpredictable. In the past, we've tried to have meetups at least once a month. We will tweet out upcoming dates and automatically send you a pickup email if you've chosen that option in your original order. Locations are in downtown Vancouver and Metrotown, and instructions are always emailed in advance.
Order Status ⭐
The best place to check on all things related to your order would be here:
Order Master List

All order statuses will be tagged in the STATUS tab - this includes:

Open or closed orders, payment updates, location updates, and both international and domestic shipping statusesSpecial cases such as cancellations or issues with sellers will also be tagged with additional notes.
---
Note: Another way to check for updates or shipping date estimations would be to visit the order source - if it's a specific fansite, you can always check their Twitter. If it's Weverse, you can visit the product page or announcements. We always include the origin of the order in our Master List.